Accountability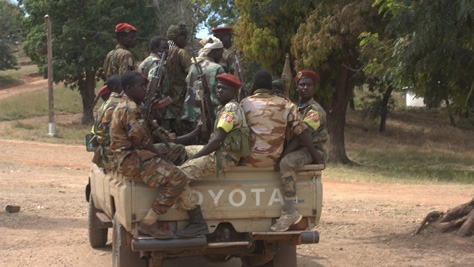 As stated earlier, the purpose of the MRM is to generate information, which should be used as a basis to foster the accountability and compliance of parties to conflict with international child protection standards and norms. Ideally, the MRM should contribute to influencing actions and changing the behaviour of parties who commit grave violations, and lead to informed programmatic response to prevent further violations and care for victims of violations.
Dialogue with parties to conflict for commitments and action plans to address grave violations

It is crucial for the UN to engage in dialogue with all entities whose actions have a significant impact on children, without any implications as to their political or juridical status. The purpose of such dialogue is to gain concrete child protection commitments from state and non-state parties to conflict. In political and practical terms, there are levers of influence that may hold significant sway over all parties to conflict, thereby facilitating commitments by them.

Dialogue with parties to conflict towards their preparation of concrete, time-bound Action Plans on recruitment and use of children in armed forces and groups , rape and other forms of sexual violence, the killing or maiming of children, and attacks on schools and hospitals is a key element of the Security Council's monitoring and compliance agenda.30

In line with the explicit requests of the Security Council in this regard, all heads of UN country presence in situations where the MRM is being implemented are required to ensure follow-up on the preparation and implementation of Action Plans. Progress in this regard is to be regularly reported to the Security Council by the CTFMR.

Parties can be delisted when the UN verifies that the violations for which the party was listed have ended during the previous global Secretary-General report cycle, and Action Plans on those violations have been finalized. The MRM is terminated in-country when all parties have been delisted for one cycle of the Secretary-General's Global Annual Report.

Templates have been developed to outline the key elements of action plans of the rape and other forms of sexual violence, and the killing or maiming of children. These are attached as Annex XII ([a] [b] [c] and [d]) [PDFs].

Other channels for MRM information

Although the MRM was established to channel timely, accurate and reliable information to the Security Council, it is understood that this information may also inform the actions of other entities within their respective mandates and jurisdictions. The Secretary-General, in his Report S/2005/072 [PDF], referred to additional "destinations for action," such as the General Assembly, the Human Rights Council, regional organizations and individual Member States, or justice mechanisms such as the International Criminal Court. The Security Council may refer the information that it receives directly to such entities, or the UN may bring official reports to the attention of other entities that may be in a position to act for the protection of children.
---
30 Security Council Resolution 1539, OP 14; Security Council Resolution 1612 [PDF], OP 19; and Security Council Resolution 1882 [PDF], OP 10.